Fastpay casino concept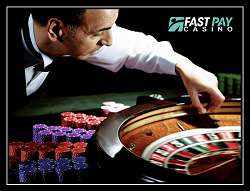 Our team started its work in 2011, as an online casino affiliate (bestnetentcasino.info website). After 7 years, seeing what the online gambling market is turning into in Runet (constant delays in payments and verification, shafe and cross-marketing of affiliate players), we decided to open our own casino in which we would like to play ourselves. First of all, FastPay Casino Mirror was created as a reliable playground for players from our own affiliate sites. The basic principles of creation were: instant payments and honest treatment of players.
How is FastPay different from other casinos?
Instead of writing about what we do, let's write what we don't:
We are not delaying payments. You ordered - we sent. Always 24/7.
We do not perform account verification for weeks, requesting new and new documents every day. If you do not have a certificate, or you do not live according to your registration, you made a mistake with the letter in your surname - this is not a reason for blocking - write to our live chat.
We do not cancel payments for no reason.
We do not hide the button with self-exclusion and limitation of deposits. The player can set the limits on his own in his personal account.
We are constantly improving our product, rather than investing money in traffic. Branded graphics solutions, localizations in the main languages, constant addition of new providers and payment systems.
We don't have"change shifts". We are always in touch. We have our own live chat support in all languages ​​(except Turkish), working 24 hours 7 days a week.
We are not hiding from the players. Our representatives are at all major forums, we have our own telegram channel. Players can always contact us.
We never remove deposit limits or account self-exclusion.
We do not call players or spam them with emails.
Concept of work
The main concept of Fastay online casino is: instant payments and honest treatment of players. Gambling should be easier. If you win, you will receive money without the hassle, cat-and-mouse games, delays and delays with account verification and player support. By playing Fastpay, players will always be sure that they will receive their winnings.
Basic principles of work and market segmentation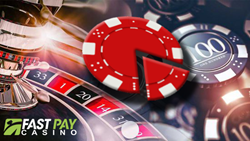 In total, we made a decision to occupy a niche with players who like instant payouts, lack of traps in the rules and these players do not like to take deposit bonuses. In order to interest players and motivate them to try the service, we have created a welcome bonus for the first deposit of 100% up to 10,000 rubles (100 euros). When playing at Fastpay casino you can always be sure that:
The money won will be sent to your wallet (or bank card) within a few minutes after the withdrawal request is generated.
Account verification usually takes half an hour. At the same time, we do not"cling" to formal inconsistencies and do not have the goal of delaying the payment by any means. If the account is really yours, then we can find an alternative to documents that are difficult for the player to provide.
Our support team is always ready to help all players 24/7. We have our own support, which is really motivated to help solve the problem, and not give formulaic answers, delaying the payment.
VIP program with reduced requirements. To get into the VIP group, players need to place bets for 10,000 euros.
Fastpay is constantly evolving: new providers, language localizations, payment systems are added, usability and graphic solutions are improving. We are constantly looking for product improvement.
Second chance, or 10% cashback every Friday from losing in slots. The wager for this money is 5x, and for VIP players the money is issued without restrictions.
Go to the Fastpay casino website and get a 100% bonus up to 100USD/EURO, 400PLN, 0.02BTC, and any other currencies 0.5 ETH, 0.5BCH, 1LTC